Nano art – Why would you make a 10nm toilet?
Estimated reading time: 4 minute(s)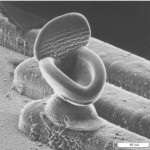 There is certainly a lot of hype surrounding nanotechnology but most scientists involved in the field admit that we are still a long way from harnessing the full potential of this new technology. However, one thing that scientists do seem to already be quite adept at is creating nano-scale sculptures. These micro works of art are certainly a testament to human ingenuity and the wonders of modern technology but they also serve as a welcome reminder of how at heart we are still a very silly species. Click more to see them all!
Nano-Guitar made by Dustin Carr from Cornell
Nano-Toilet by Takashi Kaito
Nano-Athlete by Keith Morton
Nanobama by John Hart & other Nanobliss folks
Nano-Enterprise by Takayuki Hoshino & Shinji Matsui
Nano-Playboy by John Hart & other Nanobliss folk
Nano-Chess by A. Linden & S. Bauerdick
Nano-Yacht by Takahiko Morita & Shinji Matsui
Nano-Yoga by Chiaki Minari & Shinji Matsui
Nano-Debutantes by Tim Savas
Nano-Vodka by John Hart & other folk at Nanobliss
artAutoDraftdustin carrfolkgadgets newshuman ingenuitynano artnano tubespotentialscale sculpturestechnologywaywelcome reminder