Nano art – Why would you make a 10nm toilet?
Estimated reading time: 4 minute(s)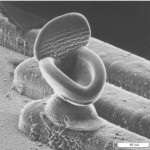 There is certainly a lot of hype surrounding nanotechnology but most scientists involved in the field admit that we are still a long way from harnessing the full potential of this new technology. However, one thing that scientists do seem to already be quite adept at is creating nano-scale sculptures. These micro works of art are certainly a testament to human ingenuity and the wonders of modern technology but they also serve as a welcome reminder of how at heart we are still a very silly species. Click more to see them all!
Nano-Guitar made by Dustin Carr from Cornell
Nano-Toilet by Takashi Kaito
Nano-Athlete by Keith Morton
Nanobama by John Hart & other Nanobliss folks
Nano-Enterprise by Takayuki Hoshino & Shinji Matsui
Nano-Playboy by John Hart & other Nanobliss folk
Nano-Chess by A. Linden & S. Bauerdick
Nano-Yacht by Takahiko Morita & Shinji Matsui
Nano-Yoga by Chiaki Minari & Shinji Matsui
Nano-Debutantes by Tim Savas
Nano-Vodka by John Hart & other folk at Nanobliss
You have found one of our older posts.
Keep in mind that links might be broken and embedded content might have been removed.
In any case we hope you find this post enjoyable! Feel free to contact us if you notice any issues.
artAutoDraftdustin carrfolkgadgets newshuman ingenuitynano artnano tubespotentialscale sculpturestechnologywaywelcome reminder