Outdoor Technology Turtle Shell 2.0 is a rugged portable wireless speaker. It's louder than a bears roar, could probably survive atmospheric reentry and is water resistant. All that and still promises good sound quality, but does it deliver?
Well quite frankly, yes it does. This thing is obviously rugged and has so far handled all drops and hits I've thrown at it.. While it scratches somewhat easily you probably wont be able to break this thing even if you really try. The Turtle Shell 2.0 meets the IPX-65 standards.
It's also water resistant, but not waterproof. That means it handles anything short of complete submersion, so you can splash it all you want, even take a shower with it and it will be fine. However the guys from outdoor tech told me at the CES that this is just the official limit, they have had it submerged for hours and it still worked fine. However doing so will ruin your warranty.
Yeah so it's rugged, but then so is a brick. What about what's most important? Sound quality..
My past experience with portable Bluetooth speakers has been rather disappointing. The Turtle Shell 2.0 however did not disappoint. It's not going to replace your hi-fi system, but as far as portable speakers go this one is very good.
The sound is really clear and manages both high and middle frequencies very well for such a small speaker. But whats really grand is the deep bass. It has a passive bass radiator on the underside of it which increases the bass considerably. If you hold your hand over it there's is a lot less bass. It's not ground shaking, but it makes for a very pleasant listening experience.
You can use both a 3.5mm cable and bluetooth to connect your device to the Turtle shell. When connected via bluetooth it has a range of 32 feet. I did notice that when you move away from it too much or stand behind a wall the sound starts to crackle and eventually looses connection. I suppose that's not really a problem since you probably want to be close enough to it to be able to hear the music anyway.
Oh yeah it also has a built in microphone so you can use it as a handsfree, and cleverly enough if you hold the middle button on it while connected to an iphone it will bring up Siri.
The battery will last for up to 16 hours of usage.
The rubber feet on the bottom of it work like suction cups so you can attach it to glossy surfaces. However it comes off quite easily, so I guess it's a good thing it can handle the fall. It also has a standard camera tripod mount and a metal leash clip( as you can see above), so you can in theory mount this thing on anything.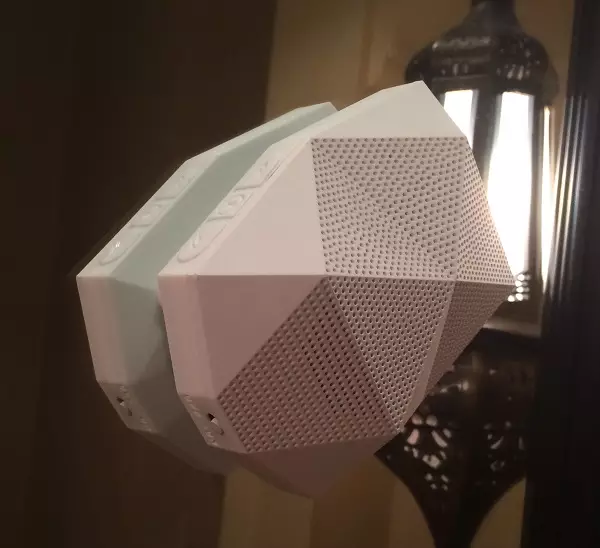 I guess what makes the Turtle shell so good is that is has the best of both worlds, it's very rugged and still delivers great sound quality.
While the one I tried out was white, the Turtle Shell is available in 8 different colors.
You can get the Turtle Shell 2.0 for $129.95 here.