Bass Egg is an amazing little gadget that turns any surface into a powerful speaker. It's essentially a portable vibration speaker, unlike regular speakers the Bass Egg skips the speaker cone and sends vibrations directly into the surface it's on. Cool enough so far, but the sound quality is beyond all expectations. You can literally feel the bass in the floor. While it produces amazing bass it also manages to make a fairly clear sound.

You can experiment to find the best surface to use it on, it makes quite a difference what surface it's on. Also the sound it creates is omni-directional, meaning that unlike regular speakers the sound goes in every direction instead of just one. It's a very fun gadget, and certainly better than any other portable speakers I've tried.
To use the Bass Egg, you can either pair it with your phone via Bluetooth or use a 3.5 mm audio cable. there's a cable included for both audio input and charging.
One charge can last for 4 to 10 hours depending on the playback volume.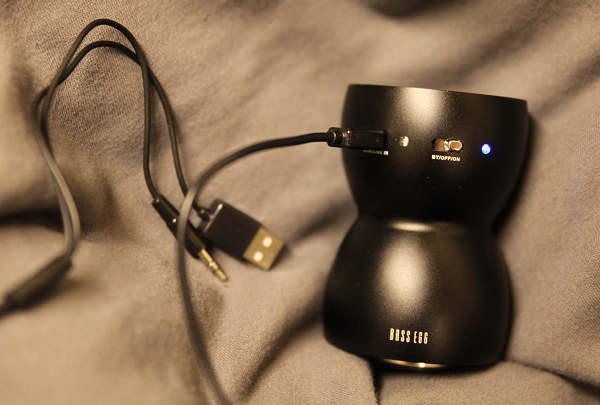 It's small enough to fit in your palm, or your pocket(2.40 x 3.62″). It weighs quite a lot (480g), but it's hardly inconvenient to carry around. It needs to weigh a bit to create a good sound, i noticed the sound quality usually improves when you put just a little extra weight on it. Thick wooden surfaces tend to create a deeper sound while glass or a thin surface will create a clearer sound. Whatever surface it's on I assure you, the bass will blow your mind.
The Bass Egg comes in two colors, black and gun metal gray. But you can buy protective silicon covers, called eggshells, in a variety of different colors.

All this and It's only $99, that's less than most bluetooth speakers. I definitely recommend the Bass Egg, it's not just a good portable speaker, it's a lot of fun! You can get one here!

Specs:
Battery : Rechargeable Lithium Ion
Charging Time: 90 Minutes
Charge Life: 4-10+ hours (depending on vol.)
Connectivity:Bluetooth or 3.5mm audio jack
Audio Specs: 50Hz to 16kHz and over 100dB
Weight: 1 lb. 1 oz
Dimensions: Height: 3.62″ x Diameter: 2.40″
Article by Johny Krahbichler