The advances being made in the automotive industry are numerous and impressive. From enhanced comfort and entertainment options to futuristic safety features, there are new and fascinating advances being made, and there is certainly something for everyone in the realm of high-tech vehicles.
Hello, computer!
In keeping with the times, vehicle manufacturers are beginning to abandon the relatively antiquated dashboard features that were once cutting edge. CD players and satellite radio are being pushed to the side in favour of integrated Wi-Fi and media platforms such as iTunes.
Ford is leading the pack in this regard, with their slick "Sync" platform. Available as an option in most new Ford vehicles, Sync is a user-friendly interface designed in conjunction with Microsoft. Following suit is Kia, with their similar "Uvo" system, which was also produced in conjunction with Microsoft and was initially found in the 2011 Sorento model.

The next step for Ford is the integrated media hub deemed "MyFord Touch", which utilizes in-car Wi-Fi (through a USB driven Wi-Fi adaptor), allowing the driver and passengers to take the internet along with them on the open road. These advances allow not only for greater entertainment capacity, but for improved driver awareness through the reduction of driver distraction.
The Future of MyFord Touch
The MyFord Touch interface debuted in the 2011 Lincoln MKX (in which it is referred to as the "MyLincoln Touch") as well as the 2011 Ford Edge, and the 2012 Ford Focus. The slick eight-inch touchscreen design integrates technologies which used to require standalone aftermarket purchase; for example, gone is the need for a GPS unit suction-cupped to the dashboard, rather, MyFord Touch offers a navigation system, which comes pre-loaded in the interface.
Just as an iPhone changes function from a music player to a web-browser depending upon which applications are utilized, the MyFord Touch alters entertainment options, steering wheel switches, the instrument cluster, and voice commands – all based on which application the driver chooses to employ.
Aside from the estimated $1,500 cost of the MyFord Touch hardware (USB port, touch screen, and memory storage), the system utilizes technology, which is already standard in the computer industry, thereby allowing the vehicle manufacturer to stay well ahead of the curve without breaking the bank. Even without in-vehicle internet connectivity, applications can still be added to the interface by utilizing the USB port – ensuring that no matter what, your applications can be both tailored to your personal liking and remain up to date with virtually no hassle.
Au Revoir, CD Changer
It is estimated that within a few years, all new vehicles will be equipped with internet connectivity options (either the capacity to "tether" a smartphone, or separate and dedicated data plans altogether). While this technology is in its infancy at the time being and only found in a handful of manufacturers' vehicles (including Audi Dealers, BMW, and Ford), the potential for huge changes to in-car entertainment is just around the corner.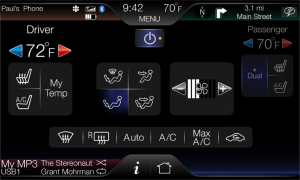 Voice recognition software and touchscreen interfaces will negate the need for usage of a mouse, keyboard, or smartphone keyboard – ensuring that the driver has full control of both the vehicle and the in-car entertainment options. The ability to control satellite radio clients such as Pandora, or to post a new tweet to Twitter via vocal command are only a few of the many, many new features which vehicle manufacturers are beginning to unveil.
Safety First
Amidst the flashy new entertainment options, vehicle manufacturers are beginning to utilize and standardize some futuristic safety features to help ensure that the new vehicles hitting city streets are some of the safest and most comfortable, which have ever been made available to the public.
As the aforementioned voice recognition technology becomes more and more commonplace, drivers are more capable of staying both safe and connected on the road. While it is easy to think that integrating Twitter into a vehicle could become a major driver distraction, the reality of the matter is that through vocal command, the driver is able to tweet while driving – and keeping their eyes on the road and their hands on the wheel.
There are also more crucial safety features being implemented in modern vehicles, including the capacity for a connected vehicle to communicate directly with its surroundings. According to industry professionals, this is akin to the vehicle's "heartbeat", in that it is constantly sending out status information. It is even possible that if you are approaching a red light at too high a speed, you will be sent a warning, and the vehicle will be able to prevent you from crashing into an intersection.
Nissan is experimenting in Japan with technologies that would feed drivers information about where other motorists have had accidents, pre-emptive warnings pertaining to road construction, and the capacity to pick up on the mobile phone signals of pedestrians in order to alert drivers of their presence.
The future of automotive technology is limitless and constantly shifting, and it is an exciting time to be an automotive consumer. These technologies will allow us convenience, enhanced comfort, and elevated safety features, the likes of which have never been seen before.
Bio:
Bradley Taylor loves writing about anything automotive, from the latest technologies being used, to classic cars. He is also a keen football fan (Derby FC) and you can always find him on Twitter and Google Plus.