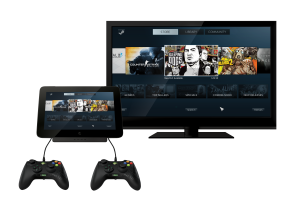 Razer showed us some new cool stuff at the CES this year, amongst those cool stuff was a new Xbox 360 controller. One that might make 360 gaming fun again. It features 6 remappable buttons and an OLED screen. The finish is the same nice rubbery finish that's on the Razer Onza controller.
The analog sticks sensitivity is still adjustable, and this version features a detachable cable that screws onto the controller. Included is a carrying case that lets gamers store the Razer Sabertooth, along with the braided fiber cable, for transport without worrying about breakage.
"The Razer Onza Tournament Edition gave Xbox 360 gamers a competitive edge," said Min-Liang Tan, Razer co-founder, CEO and creative director. "We're now taking things a step further with the Razer Sabertooth, with its re-mappable multi-function buttons and OLED display, restructured with more control options than any other device, in a rugged design that doesn't compromise comfort."
Of what i got to try the feel was good, and with fiber optical cable there is obviously no noticeable delay. I like it even more than my Razer Onza Tournament edition. And i might just have to trade it in..
And if you are a current owner of the Razer Onza Controller you can get an upgrade for a discount!
The Razer Sabertooth Step-Up Program is Razer's way of saying thanks, and giving back to the community. Current owners of the Razer Onza or Onza Tournament Edition gaming controllers will be eligible for a coupon code for a discount on the purchase of the new Razer Sabertooth elite gaming controller for Xbox 360 on the RazerStore. Owners will receive a discount code through email once they have verified the serial number of their Razer Onza or Onza Tournament Edition controllers.