This paperclip looks like a hanger
Estimated reading time: 2 minute(s)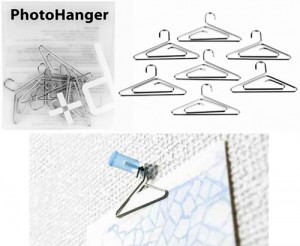 While $9.50 is a heck of a lot to pay for just 7 pieces of twisted steel wire, these clever PhotoHangers make it particularly easy to show off photos, postcards or anything worth displaying by hanging on a tack stuck to a corkboard. They also work just like regular paperclips, though something tells me given their premium pricing you won't be so quick to use one on a TPS report you're just going to give away. Available from arango.
You have found one of our older posts.
Keep in mind that links might be broken and embedded content might have been removed.
In any case we hope you find this post enjoyable! Feel free to contact us if you notice any issues.
corkboardgadgetsgadgetzzheckkrahbichlerpaperclippaperclipsPhotoHangerspremiumtps reporttwisted steelwire