New "Chumby Opus" picture leaks out
Estimated reading time: 2 minute(s)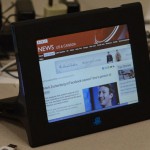 This is a picture of the new chumby model that just leaked out. It's apparently being called the Chumby Opus for now, and it looks, like its predecessor is not as thick as the last one.
There aren't a lot of details available yet on the new Chumby, although it looks like they've picked up a few design cues from the similarly functional Sony Dash. It will be iteresting to see how this runs out.
You have found one of our older posts.
Keep in mind that links might be broken and embedded content might have been removed.
In any case we hope you find this post enjoyable! Feel free to contact us if you notice any issues.
chumbydesign cuesgadgetsgadgetzzkrahbichlerleaksmodelopuspicturepredecessorSony