USB 2.0 802.11n 150Mbps Wifi/WLAN Wireless Network Adapter the size of a fingernail?
Estimated reading time: 2 minute(s)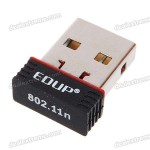 Is this possible, a wlan N card that small? If this is real, it's fantastic..
Here are the specs:
-Super-small size compact design that fits into your computer's USB port with minimal protrusion making it ideal for use when traveling or in a crowded workspace
– Provides an excellent solution for performing everyday activities such as transferring files, browsing the Internet, and downloading music.
– Complies with wireless 802.11n standards
– Transfer method: Direct Sequence Spread Spectrum (DSSS)
– Supports 64/128 bit WEP, WPA encryption
– Frequency band: 2.4~2.4835GHz
– Data rate up to 150Mbps
– Effective working distance: 100 meters farthest indoor and 150 meters farthest outdoor (varies due to the environment)
All that for only 11$, dang..

You have found one of our older posts.
Keep in mind that links might be broken and embedded content might have been removed.
In any case we hope you find this post enjoyable! Feel free to contact us if you notice any issues.
computerdirect sequence spread spectrumeveryday activitiesfrequency bandgadgetsgadgetzzkrahbichlerMbpsportprotrusionSuper-smallwireless network adapter