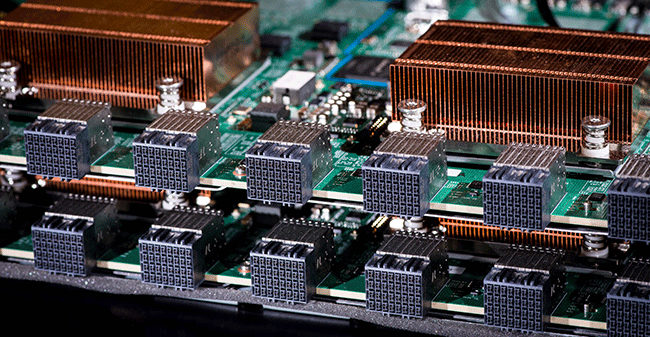 For the first time HP has tested it's memory based computing concept called 'The Machine'. The results are promising, although it's still far from reaching consumers.

So how does "The Machine" work?
It uses clusters of special-purpose cores, rather than a few generalized cores; photonics link everything instead of slow, energy-hungry copper wires; memristors give it unified memory that's as fast as RAM yet stores data permanently, like a flash drive.
The reason for building this type of computers over CPU based computers is "The internet of Things" and "Big Data". Soon we are going to need computers that not only can think fast, but think big. That is, processing ridiculous amounts of data at the same time.
Gartner predicts that by 2020, the number of connected devices will reach 20.8 billion and generate an unprecedented volume of data, which is growing at a faster rate than the ability to process, store, manage and secure it with existing computing architectures.
The Machine is HPs answer to that problem. And it does seem quite promising.

"We have achieved a major milestone with The Machine research project — one of the largest and most complex research projects in our company's history," said Antonio Neri, Executive Vice President and General Manager of the Enterprise Group at HPE. "With this prototype, we have demonstrated the potential of Memory-Driven Computing and also opened the door to immediate innovation. Our customers and the industry as a whole can expect to benefit from these advancements as we continue our pursuit of game-changing technologies."
The biggest hurdle not that the concept is proven to work, is to find memory that can deal with being changed this fast and this frequently. But HP claims that this type of machine is potentially going to be 8000 times faster than a regular computer.
The proof-of-concept prototype, which was brought online in October, shows the fundamental building blocks of the new architecture working together, just as they had been designed by researchers at HPE and its research arm, Hewlett Packard Labs. HPE has demonstrated:

Compute nodes accessing a shared pool of Fabric-Attached Memory;
An optimized Linux-based operating system (OS) running on a customized System on a Chip (SOC);
Photonics/Optical communication links, including the new X1 photonics module, are online and operational; and
New software programming tools designed to take advantage of abundant persistent memory.
Full Press release (HP Enterprise)