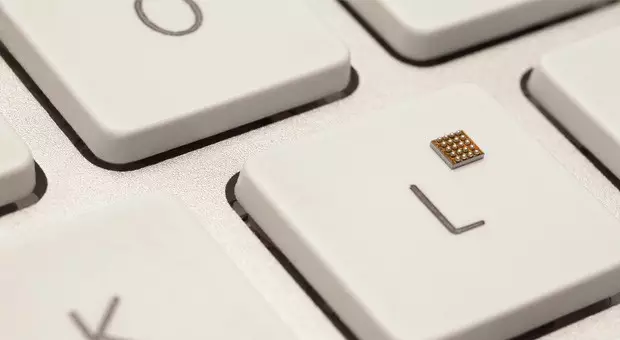 This here is the worlds smallest microcontroller. Quite a bit smaller than microcontrollers usually are. It measures  1.9 x 2.00 x 0.56 millimeters which is 25 percent smaller than the previous record holder. Also its ARM based.
Full press release below
Freescale introduces Kinetis KL02, world's smallest ARM Powered® microcontroller
1.9 x 2.0 mm MCU enables new wave of product miniaturization for the Internet of Things

NUREMBERG, Germany (Embedded World) – Feb. 26, 2013 – As the Internet of Things (IoT) expands to include greater numbers of small, intelligent, battery-operated devices, the MCUs that enable these devices must deliver performance, energy efficiency and connectivity in progressively smaller footprints. Freescale Semiconductor (NYSE: FSL) is addressing the miniaturization trend with its new Kinetis KL02 MCU–the world's smallest ARM Powered® MCU. The KL02 holds great potential for ultra-small-form-factor products in applications such as portable consumer devices, remote sensing nodes, wearable devices and ingestible healthcare sensing.

Measuring just 1.9 x 2.0 mm, the Kinetis KL02 MCU is 25 percent smaller than the industry's next-smallest ARM® MCU. Within this miniscule device, Freescale has included the latest 32-bit ARM Cortex™-M0+ processor, cutting-edge low-power functionality and a range of analog and communication peripherals. This enables system designers to dramatically reduce the size of their boards and products while retaining the all-important performance, feature integration and power consumption characteristics of their end devices. In addition, space-constrained applications that previously couldn't incorporate an MCU now can be upgraded to become smart applications, adding a new tier of devices to the IoT ecosystem.

"Freescale has been a pioneer in many aspects of the ARM Powered MCU market with our Kinetis portfolio," said Geoff Lees, senior vice president and general manager of Freescale's Microcontroller business. "We were the first to market with MCUs based on the ARM Cortex-M4 and Cortex-M0+ processors, we set new standards for entry-level MCU energy efficiency, and we've now created the world's smallest ARM Powered MCU, helping advance the Internet of Things era."

"The Internet of Things will soon be a vast and diverse ecosystem of smart connected devices and screens that embed intelligence into many new areas of our lives. This could range from tiny sensors helping to monitor crops and deliver irrigation, to microcontrollers that enable entire buildings to be more energy efficient. Our mobile devices could be soon controlling and managing this data and making our lives easier to manage," said Richard York, director, Embedded Processor Products, ARM. "The Kinetis KL02 CSP MCU brings the best ARM and Freescale technologies to applications at the very edge of the IoT and opens up exciting possibilities for a new tier of ultra-small, smart, power-efficient devices."

Advanced chip-scale packaging
The Kinetis KL02 is a wafer-level chip-scale package (CSP) MCU. Freescale's CSP MCUs use the latest in package manufacturing technology to connect the die directly to the solder ball interconnects and, in turn, to the printed circuit board (PCB). This removes the need for bond wires or interposer connections, which minimizes die- to-PCB inductance and improves thermal conduction and package durability for physically harsh environments. The KL02 device is the third CSP MCU in the Kinetis portfolio, joining the larger 120/143-pin Kinetis K series K60/K61 variants. Additional Kinetis CSP MCUs with increased performance, memory and feature options are planned throughout 2013.

Energy efficiency and feature integration
Building upon the energy efficiency of the Cortex-M0+ core, the Kinetis KL02 MCU reduces the power consumption threshold of the Kinetis L series to an even lower entry point and is ideal for the demanding power profiles of miniaturized, IoT-linked systems. The ultra efficient KL02 delivers 15.9 CM/mA* and, like the other Kinetis MCUs, it includes autonomous, power-smart peripherals (in this case, an ADC, UART and timer), 10 flexible power modes and wide clock and power gating to minimize power loss. A low-power boot mode reduces power spikes during the boot sequence or deep sleep wake-up. This is useful for systems in which battery chemistry limits the allowable peak current, such as those employing lithium-ion batteries frequently used in portable devices.

Kinetis KL02 MCU features include:
48 MHz ARM Cortex-M0+ core, 1.71-3.6V operation
Bit manipulation engine for faster, more code-efficient bit-oriented math
32 KB flash memory, 4 KB RAM
High-speed 12-bit analog-to-digital converter
High-speed analog comparator
Low-power UART, SPI, 2x IICI2C
Powerful timers for a broad range of applications including motor control
-40 °C to +85 °C operation

Demo at Embedded World
Freescale will demonstrate the energy efficiency of the L-series microcontrollers and have samples of the Kinetis KL02 CSP at Embedded World in Nuremberg, Germany, Feb. 26-28, 2013 in Hall 4A, Booth 206.

Availability and enablement
The Kinetis KL02 CSP MCU is expected to begin sampling to lead customers in March 2013. Broad market availability of production-qualified samples is planned for July 2013 from Freescale and its distribution partners. Suggested resale pricing is 75 cents (USD) in 100,000-unit quantities.

The new FRDM-KL02 Freescale Freedom development platform and accompanying Freescale and third-party enablement support will also be available in July. Customers can start development with the FRDM-KL05Z Freescale Freedom development platform in late March. This contains the superset Kinetis KL05 MCU and provides access to the core, key peripherals and Freescale and third-party enablement.

To learn more, visit freescale.com/Kinetis/KL02CSP.