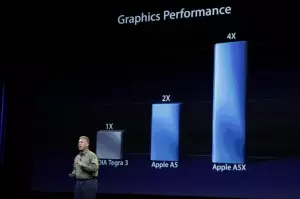 Apple said the other day that the graphics chip in the third generation iPad has four times better performance than the GPU in Nvidia's Tegra 3-chip. Apple's latest Tablet has a quad-core GPU compared to the twelvecore graphics portion of the Tegra 3.
Any benchmark information was not supplied by Apple nor Nvidia, which happen to be known for graphics cards, have announced their intention to investigate the matter themselves by buying the new edition of the iPad as soon as they release it.
Its hard to think the A5x can beat Nvidia's Tegra 3 with 4.8 GFLOPS at 200MHz and 7.2 GFLOPS at 300MHz. The same figures for the PowerVR SGX 543MP2 is 12.8 and 19.2 GFLOPS. In the latest version of the iPad 3 apple says that it is a quad-core variant of SGX 543 with the designation MP4-that is the same GPU as the PlayStation Vita. It can thus be proved SGX 543MP4 – at least on paper – is about four times faster than Tegra 3 in terms of raw computing power.
What do you think? Does the ipad 3 really have a four times faster graphics chip than the one in the Tegra 3 or does Apple exaggerate? The latest iPad goes on sale March 16 in the U.S. and we'll surely get to hear more from Nvidia on this.