These days, when you want to stay on top of everything that's happening, you've got to have a smartphone or a tablet. Anytime you need to check your e-mail, look up something on the Web, or get bored and want something fun to do, the smartphone and the tablet are your guys.
But getting one isn't so easy a decision. As you check out reviews and ask for advice, you're going to find yourself faced with one big question: Apple or Android?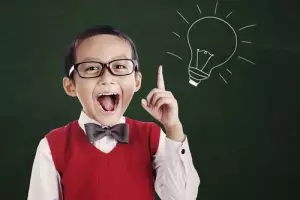 Apple is the renowned company behind the iPhone—one of the first few smartphones to hit the market and definitely one of the most recognizable gadgets available today—and the iPad. Both of these run on Mac's iOS system. Apple gadgets are generally known for being user-friendly—the interface is simple and easy to navigate. However, it is also a very rigid system that only works as it is presented. Android is Google's answer to the iOS. Released for the smartphone in 2008, this is the OS being used by notable phone/tablet brands Samsung, HTC, LG, and Motorola. Android's system is known to be more flexible and customizable—making it more usable in general because it is easy to configure according to the user's desires.
The debate on whether Android is better than Apple (and vice versa) has been hot for years, and has yet to be settled. But if you ask the techie people what they would choose, the answer for them is pretty clear: Android is the way to go. Here are five reasons why:
What Apple can do, Android can too. With the launch of Apple Maps in iOS 6, it went head to head with Android's Google Maps. However, what Google Maps has on its side is credibility as a long-established map app. It's easier to trust Google Maps' direction to be more precise and reliable. It even has a turn by turn voice-commanded navigation feature that helps you to navigate from your present location to your desired location. Apple also introduced browser-syncing capabilities, allowing information such as web history and tabs opened to be synced from your phone/tablet to your PC and other devices. However, this is limited only to the pages opened via the Safari browser. Android has the same ability, except that it syncs information stored via Google Chrome (as of the last Android software update). With Google Chrome being more widely used than Safari, this gives Android a huge advantage. With the release of iPhone 4S, Apple also introduced Siri, its new voice-command vehicle, but Android's Voice Actions feature has already predated, and for many techies, outclassed Siri as it performs more voice-command tasks as compared to Siri, and does so more efficiently. In iPhone 4 and the iPad, Apple introduced Facetime, which enabled video chat, and announced that it would now be available over cellular data networks. On Android, however, this service has long since been available. And while Facetime users are limited only to fellow Apple devices, Android's video chat feature is usable with any device, any browser, and over cellular data networks. The only requirement is a Google account.
What Android can, Apple can't. The link to Google is one of Android's big trump cards. With it, users can sync all phone data to their Google accounts, which ensures that everything is backed up safely on the Web should anything happen to your phone or even your PC or laptop. On Apple, you can only back up data via iTunes. Security-wise, your phone doesn't have to worry about people being able to guess your passcode on Android. Its Face Unlock feature allows your camera to recognize you and unlock itself when you show your face, so gone are the days when you've missed out on shooting something great with your phone's camera just because your fingers were too busy typing your passcode. Apple's security remains reliant on the 4-digit passcode feature. And on Android, you don't even have to type much if you don't want to. With many customizable keyboard apps such as Swype (which allows you to simply slide from one letter to another instead on tapping on your screen as you type) and SwiftkeyX Keyboard (which "guesses" the word you want to type based your previous word history), texting is made simpler and more fun. This is something Apple has not allowed on the App Store, and has not developed its own alternative for yet. Android also displays dynamic widgets on its screen rather the static icons used by Apple, which allows you to see up-to-date app information in real time. And then there's Android's ability to support Flash, which allows you to view more websites, without affecting battery life or Internet speed. This is definitely one of the biggest arguments against Apple, which does not.
On Android, there's always something new. Android's software updates quite often, with minor upgrades coming as often as every 3 months. Major "dessert-themed" upgrades (the latest being Jelly Bean), come as often as every 8 months. This keeps Android apps very up to date. Some Android devices are able to automatically update themselves—all you need to do is to confirm the update installation. You can even create a notification via the app Anycut, which allows you to go straight to System Updates on your gadget so you can check for any new upgrades. The notification customization is another of Android's best attributes. Notifications are displayed all in neat chronological order, or you can set your gadget to show only the updates you want to see in your own desired order.
Google and Android make the perfect pair. Some of the advantages of Android's link with Google have already been shown above, but there's more. With Android, your phone/tablet can be everything you need it to be, because having Google on Android's side allows users to tap into Google Wallet, which uses Near Field Communication (NFC) to turn your gadget into a payment device. This means that you can say goodbye to lugging around big bags with heavy wallets and credit cards—all you need is your gadget and you're good to go. Your Android phone can even take note of what you normally search for on your PC and integrate that into its system, and vice versa via auto-suggest web searching capability. This is a great way of personalizing your forays into the wide world of Google's search engine.
Android is an open book. Android is open in so many ways. The OS is open source, so getting open tech support is easier. It can be used on so many more devices than iOS, which is limited to Apple devices. This makes it very versatile. On Android's App Market, you can more apps for free than you can on the Apple's App Store, which is heavy on paid apps. Additionally, with the escalating war between these two tech giants, Apple has placed restrictions on the apps it allows into its store based on censorship and competition. Google Voice, an app similar to Skype, is one popular example of an app Apple refused to release on the grounds that it duplicated phone functions. Android has no such compunctions, and as a result, there are more options with regard to its app offerings.
Geniuses love to tinker, and on Android, there's so much you can do. You can customize your phone down to the core, and you don't even have to leave your home screen to do so. With the constant upgrades, you'll never run out of discoveries. While Apple's gadgets are good in themselves, there's only so much you can tweak before you hit the Apple wall. So if you want personality and the freedom to move in your gadget, Android has got to be your guy.
Author bio:
+Tony Evans is a freelance web designer, an alumna of Upskilled Australia and a mother of a beautiful daughter, Athena. She has a passion in Aerobics and cooking healthy recipes.