Apparently the Iphone 4S was the worst and died first!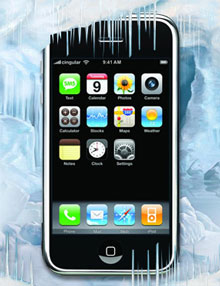 The swedish magazine MikroPC has made a test where they  exposed a number of popular mobile devices for cold torture to see which one could stand it the best.
The test was conducted in the Finnish Technical Research Centers weatherroom. The starting temperature was zero degrees and then the temperature was decreased stepwise until the units simply died a bitter cold death. .
What was the result? Apple's latest mobile iPhone 4S is apparently no good at all to use outdoors this time of year, because the device with the Nokia N9 at -5 degrees celsius, began to show errors in the SIM card and battery. iPhone 4S then completely died at -10 degrees, compared to its predecessor, the iPhone 4, which dealt with -20. At minus ten degrees all LCDs started to have problems while AMOLED screens where far  much better.
The devices that could withstand cold very best where the old phones Nokia C1-01 and Nokia E65, which held out to the entire -40 degrees. Samsung Galaxy S2 was also tough and survived -35 degrees, while the HTC Evo 3D had troubles at -20.