Xtion Pro, kinda like kinect
Estimated reading time: 2 minute(s)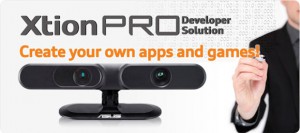 Asus presented their Xtion pro as well as their Wavi Xtion at ces this year, and the Pro (developer s package) has just gone on sale in japan.Unity Corportation has just announced that it's releasing the Xtion Promotion sensor (complete with an SDK) in the country for ¥19,980, or roughly $240. That should work similarly to a Kinect considering that PrimeSense is responsible for much of the technology behind it, although you should be aware that this one is aimed squarely at developers looking to created their own games and applications for it. You'll have to wait for the more consumer-friendly Wavi Xtion if you are a consumer.
You have found one of our older posts.
Keep in mind that links might be broken and embedded content might have been removed.
In any case we hope you find this post enjoyable! Feel free to contact us if you notice any issues.
asusCESown gamespackagePrimeSensePromotionsdkunityXtion
One Comment
Leave a comment