With the Coronavirus pandemic many conferences, trade shows, and events have chosen to go virtual. But what is it actually like to 'attend' one of these virtual events? I signed up as press for the Virtual LAGC Select (Los Angeles Games Conference) to find out.
First of all I have to give the organizers credit for really trying to make this virtual event as good as the real one. They had many keynotes, discussion sessions and stuff planned.
---
Webinars VS Keynotes
I joined one of these webinars that was hosted by many interesting person (see above image) and sponsored by Samsung Ads.
And while the discussions were relatively interesting it felt more like watching a Youtube podcast than attending a keynote or real life discussion forum. Really I found it to be quite boring to be honest.
One positive thing however, was that the attendees could join in the discussion in the chat room. And even use the chat to ask the hosts questions.
While that's really cool, people tried using the chat to network, which is what conferences are for. But it doesn't really give anything, people spam their offer rather than actually presenting it to individual attendees.
Another cool thing about hosting webinars is that you can easily create polls, such as this one.
In conclusion
While I prefer that show organizers do virtual events over canceling them completely, it's simply clear that online sessions can never match the first-hand experience of walking around a trade event and watching the speakers in person.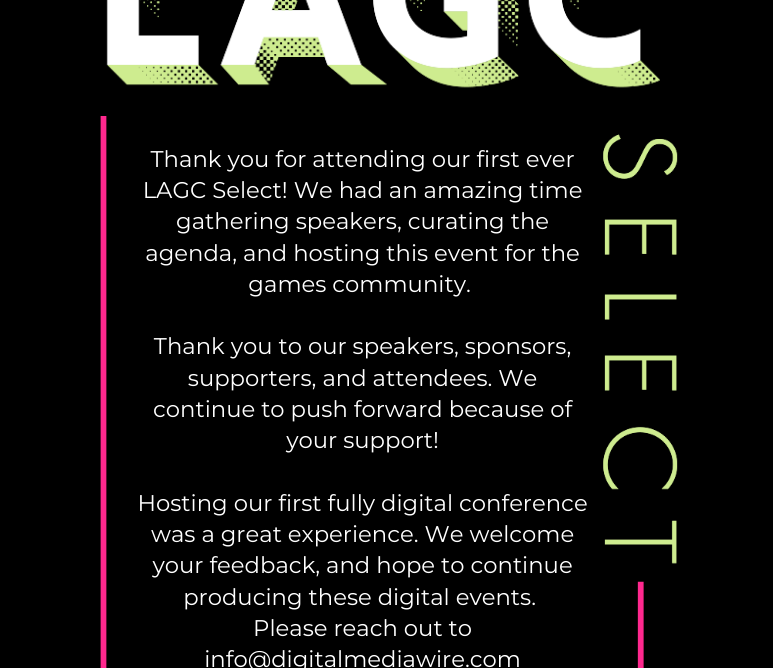 All in all it wasn't a disappointing experience, just not close to as good as the real thing. Still, I want to thank the organizers of LAGC Select for inviting me to attend and check out a virtual video games conference.