At the Dustin Expo 2019 in Stockholm I got to try out a VR demo that HP (Hewlett Packard) had put together.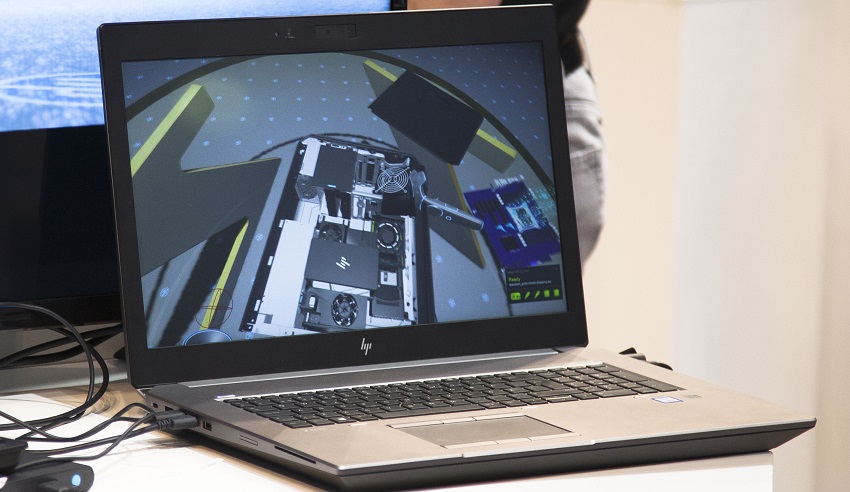 It seemed to be to promote their new VR headset. Unfortunately the demo version of the VR headset wasn't up and running so I played the demo on an HTC Vive.
The demo was pretty cool and unique though. You got to assemble an HP computer from scratch. Putting the various parts together.
The headset they were promoting called HP Reverb VR seemed pretty cool. It promises 4k resolution on each eye, a far higher resolution than the Vive. Hopefully I'll get a chance to try a functioning version at some point. ¯\_(ツ)_/¯
The HP Reverb VR headset is outfitted with two 2.89-inch screens featuring a 2160×2160 resolution per eye (4320×2160 combined resolution), a 90 Hz refresh rate, and a 114-degree field of view. The head mounted display (HMD) comes with a built-in inside-out 6-degree-of-freedom (6DoF) positional tracking and therefore does not need any external sensors.
---
More info about the HP Reverb VR headset from HP's press release:
Solving Top Customer VR Challenges

HP worked closely with customers across product design, architecture, engineering, training, healthcare, and location-based entertainment to better understand their unique insights. VR-based training, for example, has a 75 percent retention rate compared to lectures at 10 percent and reading at 5 percent3. As part of this process, HP worked to create a device which solves for three specific pain points commonly associated with VR solutions: superb visual quality – from high resolution to the reduction of repeated focus adjustments; smarter fit and comfort, especially during extended usage for intense workflows; and, worry-free deployment and support.

The ultra-light (1.1 pounds/0.5 kilograms), ultra-immersive HP Reverb VR Headset features excellent resolution with redesigned optics to increase the visual "sweet spot." HP Reverb also features integrated headphones with spatial audio and smart assistant compatible dual microphones for a greater immersive experience and collaboration in multi-user VR environments.

Deployment of HP Reverb is simple. It has integrated Bluetooth® with pre-paired motion controllers right out of the box (no need to pair) and support for Windows Mixed Reality and Steam VR. With Windows Mixed Reality's inside out tracking, setup is even easier – just plug in the VR headset and start the experience. For multi-user environments there are removable, cleanable facemask cushions.

"With more than 2,500 VR experiences available and counting, Windows Mixed Reality continues to serve as the home for cutting-edge innovations that are fundamentally changing the way we work and play," said Alex Kipman, Technical Fellow, Microsoft. "The HP Reverb headset is an amazing example of the type of innovation we are seeing take place as we push forward and bring the next era of computing – the era of mixed reality – to the masses."

 

HP Reverb Professional Edition Pricing and Availability

The HP Reverb Virtual Reality Headset – Pro Edition is expected to be available in May for €629
Pro Edition price includes: HP VR Headset, 3.5m headset cable for desktop and mobile PCs, .6m headset cable for HP Z VR Backpack wearable VR PC (sold separately), 2 motion controllers, cleanable face cushion, 1 DisplayPort™ to mini-DisplayPort™ adapter. The Pro Edition has a 1-year limited commercial warranty.

HP Reverb Consumer Edition Available

The HP Reverb Virtual Reality Headset – Consumer Edition is expected to be available in April for €579
Consumer Edition price includes the same as the pro edition except for the .6m headset cable and washable fabric face cushion. The Consumer Edition includes a 1-year limited consumer warranty.