Did you know there is a Twitter account continuously tweeting the orbit of Jupiters four biggest moons, aka the Galilean moons.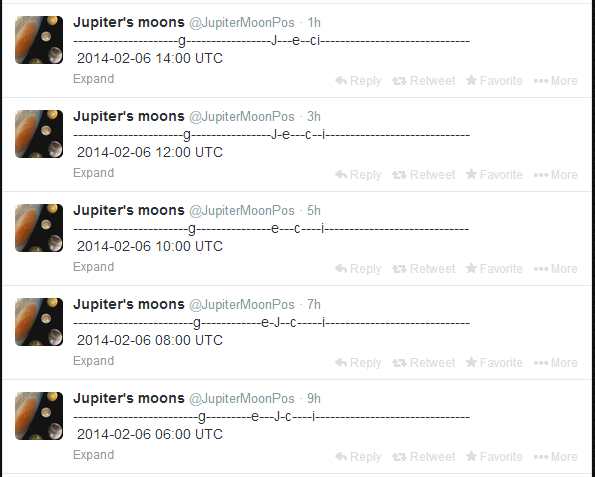 So:
—-c—————-g—————–J-i—–e——————————
Tells you that callisto and ganymede are to the left, while io and europa are to the right of jupiter from earths perspective at the moment.
If you scroll quickly down the page you can see the moons orbit around Jupiter. It looks something like this:

Thanks to @YYCTed for functional testing of the algorithm behind @JupiterMoonPos pic.twitter.com/f67wmY9f43

— Jupiter's moons (@JupiterMoonPos) January 31, 2014

The bot just recently got visual confirmation. So it is indeed accurate.

There's also a version for Saturns moons coming.
So why did they make this bot?
The twitter acct was originally created as a cheat sheet for my astronomy club to have the ability to easily identify the galilean moons we were sharing with the public easily from our cellphones. They move so fast a pre-observing session briefing isn't sufficient for a multi-hour session.
Here is picture I took of Jupiter and the tweet that identifies the position of the moons.

————————–e—-ic–g—J————————————– 2014-02-05 16:00 UTC

— Jupiter's moons (@JupiterMoonPos) February 5, 2014