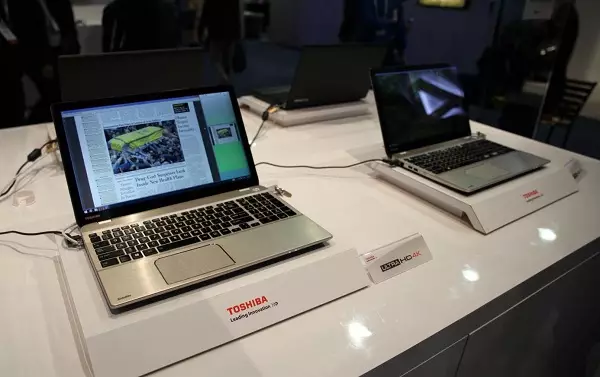 4K is one of the technologies that have taken the longest to actually reach the market. So these 4K laptops are quite welcome news.
There's really not that much to say, obviously the screens are amazing. If you thought the retina screens on the macbooks were good, then these will blow your mind. They have full 4k resolution 3840 x 2160 as opossed to 2880×1800 retina resolution. Besides the ultra HD screens these laptops aren't too shabby. The P55T has an i5 processor, a 1TB harddrive and 1792MB Intel HD graphics card. The Tecra W50 has an i7 and a 2GB NVIDIA Quadro K2100M.

NEWS
For Immediate Release
TOSHIBA SHOWCASES WORLD'S FIRST ULTRA HD 4K LAPTOPS
New Tecra W50 and Satellite P50t to Feature Ultra HD 4K Resolution Displays, Taking Laptop Visuals to a Whole New Level
LAS VEGAS, CES 2014, LVCC Central Hall Booth #10926 – Jan. 6, 2014 – Toshiba's Digital Products Division (DPD), a division of Toshiba America Information Systems, Inc., is showcasing today the world's first laptops featuring Ultra HD 4K displays during CES 2014. The Tecra W50 mobile workstation is ideal for engineers and 3D designers and the Satellite® P50t for professional photographers, graphic designers and 4K movie enthusiasts. Both laptops will be available for purchase in mid-2014.
"As a leader in Ultra HD, we are leveraging our 4K TV expertise to deliver a display capable of four times the resolution of Full HD to provide smoother images with astounding details," said Carl Pinto, vice president of marketing and engineering, Toshiba America Information Systems, Inc., Digital Products Division. "We have applied years of experience and engineering resources to bring Ultra HD 4K technology into our premium laptops for consumers and businesses so they can usher in the next generation of content creation and consumption."
The 15.6-inch diagonal displays1 of the Tecra W50 and Satellite P50t deliver native 3840 x 2160 resolution at 282 PPI. To further enhance the viewing experience, the displays are also color calibrated with accurate color gamut and feature wide viewing angles.
Tecra W50
A portable powerhouse built for the most intensive visual and engineering tasks, the Tecra W50 mobile workstation features a 15.6-inch diagonal Ultra HD 4K display, plus unsurpassed durability and one of the thinnest, lightest designs in its class at less than six pounds. The Tecra W50 features high-precision performance for today's most demanding tasks – including SolidWorks® and AutoCAD®– with a full-voltage 4th generation Intel® Core™ processing technology2.
"The Toshiba Tecra W50 mobile workstation, with the Kepler-based NVIDIA® Quadro® K2100M GPU and 2GB of dedicated video memory, delivers uncompromised performance and rich visual experiences for graphics-heavy applications that creative professionals demand," said Shawn Worsell, product line manager for the Quadro Professional Solutions Business at NVIDIA. "With the addition of an integrated 4K display, this is an ideal machine for designers, engineers and digital content professionals looking to be productive, and stylish, anywhere."
Satellite P50t
Packed with premium features and sophisticated styling, the Satellite P50t is designed to kick mobile entertainment into high gear with a responsive touchscreen display and a powerful 4th generation Intel Core processor. Available with a 15.6-inch diagonal Ultra HD 4K display with edge-to-edge glass that provides unprecedented color, clarity and contrast.
Availability
The Tecra W50 and Satellite P50t with 4K displays will be available in mid-2014.
2
Tecra W50 Image Gallery: bit.ly/ToshibaTecraW50
Satellite P50t Image Gallery: bit.ly/ToshibaSatelliteP50t
Connect with Toshiba on Facebook at www.facebook.com/ToshibaUSA, on Twitter at
twitter.com/ToshibaUSA, and on YouTube at youtube.com/ToshibaUS.
About Toshiba America Information Systems, Inc. (TAIS)
Headquartered in Irvine, Calif., TAIS is comprised of three business units: Digital Products Division, Imaging Systems Division,
and Telecommunication Systems Division. Together, these divisions provide digital products, services and solutions, including
industry-leading portable computers; televisions, TV/DVD Combination products, Blu-ray Disc™ and DVD products, and portable
devices; imaging products for the security, medical and manufacturing markets; storage products for computers; and IP
business telephone systems with unified communications, collaboration and mobility applications. TAIS provides sales,
marketing and services for its wide range of products in the United States and Latin America. TAIS is an independent operating
company owned by Toshiba America, Inc., a subsidiary of Toshiba Corporation. For more information on TAIS visit
us.toshiba.com.