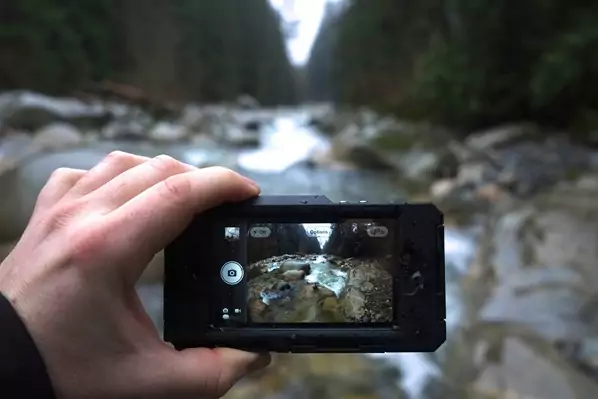 The Hitcase is a really tough case, and its perfect for recording videos in harsh conditions.
It is built to take any kind of beating and is waterproof up to 33feet under water, which is round 10 meter. It also has a fisheye lens which gives it a wider angle (170-degrees), making recording and photos both look really nice.
The case has a railslide like the one on GoPro cameras, in fact it is compatible with the same system. It autolocks when you push it in to any rail accessory and then unlocks with one button. Fairly straight forward. There are tons of accessories, chest mounts, tripods etc. Some of which we will try at a later time.
The case feels very good in your hand, but its not really suitable for everyday use. It's just too bulky. But if you want to record something outdoors this is the case you want to use. It is perfect for biking, diving or offroad, whatever really.
The speakers and microphone are behind a special seal so those are not affected by the case, yet are still protected against water and dust.
One of the most exiting things is the app that is designed for use with this case. It allows you to film with an overlay showing Speed, G-forces, altitude, and more. Its called Vidometer and is on the app store. Its really cool, and here is an example of it.

In the box you get:
1x Hitcase Pro
1x GoPro® Compatible Railslide™ Mount
1x Tripod TiltR
1x StickR Mount
1x Wrist Strap
1x Additional Port Plug
And its $129.99.