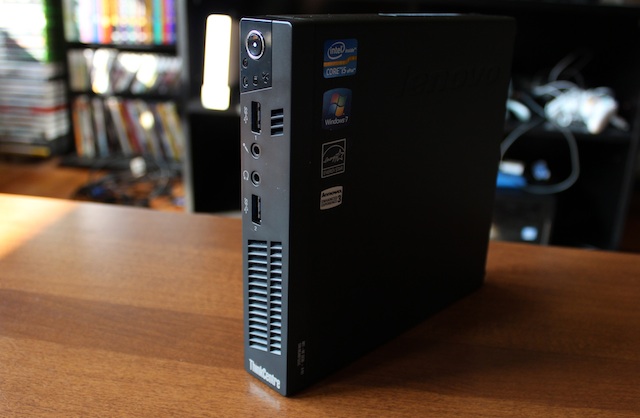 Desktop computers still command a loyal following in spite of public perception to the contrary. Lenovo has sought to fulfill this niche space with the launch of their new ThinkCentre M92p Tiny desktop device. Does it succeed as a solid and professional system? Presenting a comprehensive review of a particular configuration of the M92p Tiny:
Important Specifications
Unique "1-liter space" construction
2.9 GHz dual-core Intel Core i5 (3470T) central processor
Intel HD 2500 graphics card
4GB DDR3 RAM
500 GB hard disk drive
Microsoft Windows 7 Professional operating system
4 USB (3.0) ports and 1 USB (2.0) port
Capability to attach 3 monitors
Intel vPro licensed
Design
The Lenovo M92p Tiny is, as its name suggests, indeed diminutive and compact. The body measures a very trim 7.2 by 7 by 1.3 inches and weighs a light 1.32 kilograms making the unit very portable. These dimensions, if you do the math, translate into the occupation of approximately 1 liter of volume, a facet Lenovo has prominently highlighted. It is to be noted that the unit is designed to be used with a proprietary optical drive that can be connected through USB (2.0); the attached optical drive will naturally increase the unit's size. The color scheme is, meanwhile, all black in keeping with the professional tone of the device.
The M92p Tiny houses its various external ports and controls in a neat and accessible manner; these also demonstrate the resourcefulness of this desktop computer. There are 4 USB (3.0) ports as well as a single USB (2.0) port for linking with the optical drive. Next you get a DisplayPort allowing you to attach up to two monitors (via Mosaic mode) with the aid of a simple connector (to be purchased separately) and also a VGA port for supporting another monitor. Further you have connections for audio, power, and Ethernet functionalities embedded in the structure although the absence of an HDMI connection rankles as it would have facilitated TV linking.
The overall versatility and compactness of the M92p Tiny makes it a breeze to link it with an external monitor, keyboard, and a mouse for a complete all-in-one desktop solution.
Internal Aspects and Performance
The M92p Tiny is motorized by an energetic 2.9 GHz Intel Core i5 (3470T) central processor that can reach clock speeds of 3.6 GHz in Intel's maximum turbo frequency mode. This Ivy Bridge-stamped processor is strengthened with the included 4GB RAM bearing a 1600 MHz configuration. Taken as a whole these components impart significant rapidity and resilience to computer processes and applications. In fact, the M92p Tiny racked up impressive benchmarking results in tests conducted by all the popular online platforms.
The internal storage is encapsulated in the M92p Tiny's 500GB hard disk drive that operates at 5400 revolutions per minute. This is a slight demerit as there are many entry-level systems with more capable running specifications. You can obtain a solid state drive (SSD) functionality by purchasing a different configuration to the unit reviewed here. It is to be noted that there is no scope for facilitating internal expansion.
The M92p Tiny comes with an Energy Star (5.2) certification largely thanks to Lenovo's patented Intelligent Cooling Engine (ICE) knowhow. This technology intuitively regulates the energy consumption of the system's discrete internal parts supplying power only when necessary.
Although the unit is not Wi-Fi compatible, particular models of the M92p Tiny allow you to optionally use Wi-Fi to connect to the Internet.
Software
The M92p Tiny encompasses the robust Microsoft Windows 7 Professional interface that is capable of being upgraded to Windows 8 with complete system support. In addition, you can benefit from a variety of auxiliary programs such as SimpleTap, Lenovo App Shop, Skype, Evernote, Kayak, and more.
The device carries Intel's vPro certification that generates an all-inclusive IT suite equipped with Active Management and Trusted Execution functionalities.
Verdict
The Lenovo ThinkCentre M92p Tiny, which retails for around USD 580, is a very capable desktop device.
This is a guest post is brought to you by Samantha Kirk, a writer for AT&T U Verse. Samantha provides up to date content and information for AT&T bundles, TV, internet, digital voice and other deals.