Probably the best travel charger you can get!
Estimated reading time: 2 minute(s)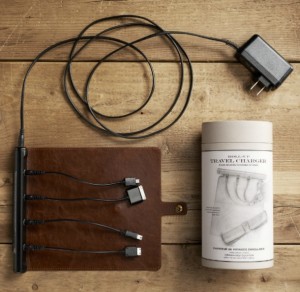 If you travel a lot you know its easy to forget chargers and its a damn hassle to keep themin your bag without clutter, the solution might just be here. Yes, with this charger, you can recharge up to four gadgets simultaneously, while occupying just a single wall outlet. Product page can be found here
Compatible with iPhone® 3G, iPhone® 4, iPad® 1, iPad® 2, 1st to 5th generation iPods®, iPod nano®, iPod touch®
4 different connectors for various mobile devices (iPhone®, Mini USB, Micro USB, Samsung)
Can recharge all 4 devices simultaneously
Single power source
Glowing on/off light
Lightweight, compact and portable; perfect for traveling
AC adapter (included)
Dimensions
7½" x 10¾" x ¾"
Weight: approx. 7 oz.
You have found one of our older posts.
Keep in mind that links might be broken and embedded content might have been removed.
In any case we hope you find this post enjoyable! Feel free to contact us if you notice any issues.
AutobagchargerclutterDraftgadgets newsipadipod nanooutletrechargetravel charger