This Iphone cover changes color depending on temperature
Estimated reading time: 2 minute(s)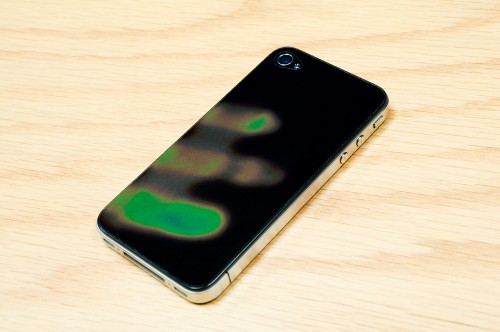 Kind of like a mood ring this iphone back cover changes color depending on the temperature. This self-adhesive laser cut backing will change colors in the range 90 to 95 degrees F – or just below body temperature. At only .005″ thick, it'll fit nicely under any bumper you put on your phone too.
Watch as the backing changes color with heat from your hands, pocket, or anywhere else you might put it. It will even change colors to reveal outlines of it's inner components while playing music, surfing, or while on a phone call!
Here's a video of it in action!

You have found one of our older posts.
Keep in mind that links might be broken and embedded content might have been removed.
In any case we hope you find this post enjoyable! Feel free to contact us if you notice any issues.
AutobodyDraftgadgets newsinner componentsiphonelaser cutmoodphonerangeringtemperature