New Worldrecord in overclocking set with an AMD Bulldozer
Estimated reading time: 3 minute(s)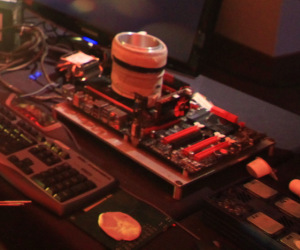 Last week, a guy called Andre Yang managed to overclock AMD's FX-8150 CPU to 8.46GHz, breaking the former record set by AMD. Andre Yang has now been able to break his own record by around 120MHz, which is fairly notable increase given that the previous record he set was only 30MHz greater than the record before that. The new world record is 8584.8MHz to be exact, 123.3MHz greater than the previous. The record is not official yet, though, as it has not appeared in CPU-Z's validation database.
Andre used the same Crosshair V Formula motherboard and the only difference seems to be the higher core voltage, which was 2.076V in the new record (1.992V in the old one). Andre used liquid nitrogen for cooling, so even higher overclocks could be achieved with liquid helium, which liquefies at -269 Celsius while it's -196 Celsius for nitrogen in atmosphere pressure. Bulldozer's upcoming B3 stepping could also improve the overclock-ability, possibly making 9GHz plausible.Which would be quite amazing yet nowhere close to being that high in consumer processing units.
You have found one of our older posts.
Keep in mind that links might be broken and embedded content might have been removed.
In any case we hope you find this post enjoyable! Feel free to contact us if you notice any issues.
atmosphere pressureAutoBulldozerCPUDraftFXgadgets newsguyliquid heliumliquid nitrogennewvalidation databaseworldrecord
One Comment
Leave a comment