Google is mapping the Amazon jungle in 3D
Estimated reading time: 3 minute(s)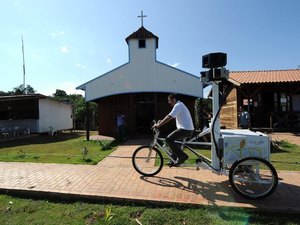 Google has for a long time offered a cool 3d view of most parts of the world. But there are places where the google street view car just cant go.
This dosent mean google cant though, as you know google is the god of the internet. And they already mapped parts of the atlantic ocean. So what would stop them from mapping the amazon jungle?
So Google mounted its cameras on a special tricycle and took to Tumbira's trails and into the jungle — a place where Cleudilan Silveira goes in search of birds. An expert guide, Silveira calls out to them — catching sight of any number of species.
Google's cameras also went on the Rio Negro and its tributaries. That's where the locals fish for the monster-sized pirarucu.
"You're walking down the forest trail and it's 360 panorama so you can look up, you can look down on the ground," she says. "In one place, you will be able to see an area where they gather Brazilian nuts and there are Brazil nuts all over the floor."
You have found one of our older posts.
Keep in mind that links might be broken and embedded content might have been removed.
In any case we hope you find this post enjoyable! Feel free to contact us if you notice any issues.
amazon jungleAutobrazil nutscarcoolDraftgadgets newsgodgooglegoogle street viewpirarucurio negrostreet
One Comment
Leave a comment