What are the best Tech store's on Manhattan? There are very many, from the beautiful Apple store, to the huge Best buy cramped into the towers. There are very many, and here are the best. This list is to help you out! So if you are visiting new-york check this out!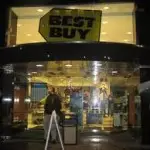 1. AC GEARS: is a small gadget boutique in the middle of Greenwich Village, these guys have everything you can imagine, Robots, camera's, toys, even lab-coats some call it the mad scientist's lair. Great place to shop and the prices aren't bad either. (212) 260-2269 69 E 8th St, New York, NY 10003+6450
2.. Apple Store: What cant we say about the Apple store that hasn't already been said, smack dab in the middle of Fifth Avenue, marked by a sleek glass cube in front of a really bland GM building makes this store really stand out from all others. This is the biggest Apple store you will find anywhere with 300 employees, and the famous Genius Bar that dedicated to help you with all of your technical needs with 100 Geniuses its no wonder the store is open 24th hours a day. (212) 336-1440 767 Fifth Avenue, New York, NY 10153
3. The Wired Store: The Ultimate geek out spot in the city deep in flatiron District, theres nothing you cant find when visiting this cool establishment. On top of having great prices Wired throws really cool celebrity filled events to lure in customer so head over and check them out, 8pm Wednesdays through Fridays and 11am to 7pm Saturdays and Sundays from November 21 through December 28. (212) 475-5700 15 West 18th Street, New York, NY 10011
4. B&H Photo-Video: B&His the end all be all of all thing photography, if your an upcoming or seasoned photographer this is the place you need to be. It also serves everything for everyone whether  your a New Yorker or a tourist this is a happening spot. (212) 444-5040 420 9th Ave, New York, NY 10001+1603
5. BANG & OLUFSEN – SOHO: The Audio buff's dream store is New York most expensive and high quality, these guys take sound and Audio very seriously, right in the middle of Soho check them out. (212) 501-0926 63 Greene Street, New York, NY 10012
6. HAMMACHER SCHLEMMER: You cant talk New York electronics with out Hammer Schlemmer, this former hardware store turned gadget has stood the test of time Schlemmer first opened their doors 1848 and theirs a reason why they are still doing business. Pet gadget, Human gadget, Outdoor living, Home care are just some of what Schlemmer has to offer and with same day delivery anywhere within the five boroughs makes this the ideal place for the city that never sleeps. (212) 421-9000 147 E 57th St, New York, NY 10022+2101
7. J & R MUSIC & COMPUTER WORLD: The Brand name speaks for its self i'm sure you at some point been inside on of these super stores, electronics, consumer goods and computers and a wide array of music J&R is the destination of choice for on the go New Yorkers.(212) 238-9000 15 Park Row Lbby, New York, NY 10038+2301
8. PORTATRONICS: Sometimes Gadgets breaks unfortunately and warranties expire, but have no fear thats when Portatronics comes in. These guys fix whatever needs fixing from broken iPods, to your kids Nintendo DSI you break it they fix it. (646) 797-2838 307 W 38th St, New York, NY 10018+2913
9. BEST BUY: iPod's, iPad's, PC, Macs, Digital Camera, Software just to name a few are some of the thing you will find at any Best Buy store in NY. With over 10 stores around the city, Competitive Prices, and good customer service its a reason why they are one of the few remaining mega retailers in the US. (212) 808-0309 529 5th Ave, New York, NY 10017+4608
10. DATAVISION: Has arguably the friendliest and most knowledgeable staff in the city and New York's largest independent computer / video retailer., which is always a good thing for those eager to buy a cool gadget but wants all the facts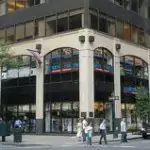 before diving in, this is you place, Hard-drives, laptops, are just some of thing Datavison carry check them out. 212-689-1111 445 5th Ave, New York, NY 10016+0109
Then there's of-course Gamestop, which holds about the same quality all over the state's. Good video game store.