Controll regular RC cars with your phone
Estimated reading time: 2 minute(s)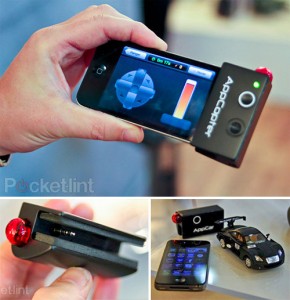 While devices like Sphero or Parrot's AR.Drone that use the iPhone or iPod Touch as a remote control usually just rely on the device's built-in wifi or Bluetooth, these AppToyz, from a UK-based company called MediaSauce, use a cheap add-on dongle to communicate over RF I assume.
And instead of interfacing with the dock connector on the bottom of the iPhone or iPod Touch, the AppToyz dongle plugs into the headphone jack which seems to be standard procedure for third-party remote control hardware like this. As a result, when available sometime this year, they'll be a bit more affordable than something like the AR.Drone with an RC helicopter selling for ~$80 (£50) and an RC car that's a bit cheaper at ~$47 (£30).
You have found one of our older posts.
Keep in mind that links might be broken and embedded content might have been removed.
In any case we hope you find this post enjoyable! Feel free to contact us if you notice any issues.
AppToyzcontrolcontrol hardwareDronegadgetsgadgetzzheadphone jackiphonekrahbichlerphonerc helicoptersphero