Ambinient light, dedicated for gamers
Estimated reading time: 4 minute(s)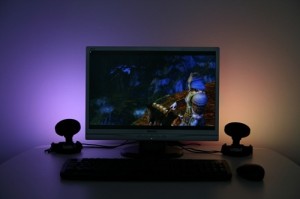 These backlighting's (similar to ambi light philips) are made for computer gamers, the idea is to light up the side of the screen with the color that is used the most on that side of the screen, you know. The ones selling it are madcatz, who are known to sell high quality gear at low prises, wich is awesome beacuse these lamps are based on an expensive technology called AMBX, Specs below. [source]
amBX is a new technology standard that provides one platform for all entertainment media to work in harmony with lighting and hardware to create an incredible new level of immersion. Once you have experienced games, music and movies with amBX you can never go back – the world would be a flatter place.
With amBX…
LED lighting works in sync with your game, in tune with your music or adds to the suspense of your movie.
Gaming peripherals are tied in to the action of the game, rumbles and wind effects are created exactly as they are meant to be experienced.
Nightclubs and Bars can entertain you with amazing light shows tied in with music and video walls with ever changing effects.
Cinemas can add a 4D experience to movies!
Your home lighting can be controlled to create multiple mood settings and can also join in when you play games, movies and music.
Experience more with amBX!
You have found one of our older posts.
Keep in mind that links might be broken and embedded content might have been removed.
In any case we hope you find this post enjoyable! Feel free to contact us if you notice any issues.
amazing lightAmbinientcomputergadgetsgadgetzzgaming peripheralshome lightingideakrahbichlerlighting worksmood settingsmusicscreen