Google makes interactive resturant rating service
Estimated reading time: 2 minute(s)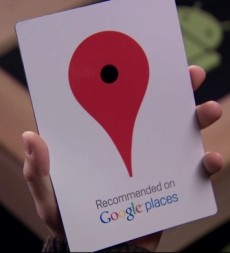 The company's embedded near-field communications chips into each and every one of these "Recommended on Google Places" window stickers, which you'll be able to trigger with a shiny new Nexus S — just hold your handset up to the black dot, and voila, your phone gets a "tag." Google's now distributing the signs on a trial basis to Portland, Oregon businesses as part of a larger Google Places kit, though it doesn't explain how (or if) they'll be able to program the chips. Could be funny.
You have found one of our older posts.
Keep in mind that links might be broken and embedded content might have been removed.
In any case we hope you find this post enjoyable! Feel free to contact us if you notice any issues.
basisblack dotcommunications chipsfield communicationsgadgetsgadgetzzhandsetkrahbichleroregon businessesphonetagvoilawindow stickers