Irish Pub 2 go
Estimated reading time: 2 minute(s)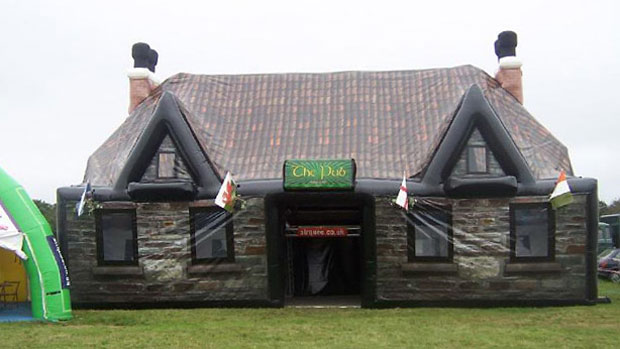 This is no joke (i'm afraid) you can now buy your own (inflatable) Irish pub. but then again it might be smarter to just rent a real pu as this fella costs over 10000€. It's 40 x 19 x 22-feet, the pub can be inflated in about 10 minutes using the two included pumps, letting you and 30 of your closest drinking buddies gather 'round for a few rounds. If you want to hang a plasma screen TV or a small stereo system, the internal aluminum frame should provide enough support.
Just don't set up a dart board in there.
You have found one of our older posts.
Keep in mind that links might be broken and embedded content might have been removed.
In any case we hope you find this post enjoyable! Feel free to contact us if you notice any issues.
drinkingdrinking buddiesfew roundsgadgetsgadgetzzinternal aluminum frameirish pubkrahbichlerplasmaplasma screen tvroundscreensupport