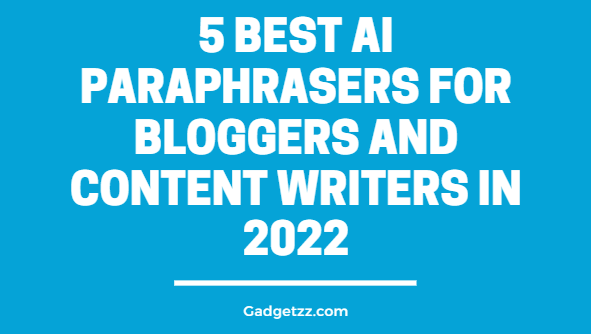 Artificial intelligence has extended its services to assist blog writers and web content writers. With the help of automation, online-based platforms have found a solution to create good quality content.
The application of AI in content has been raised because of its importance in digital media marketing. This article has featured the best AI-powered paraphrasing tools recommended by web content writers and bloggers.
Which AI Paraphraser is ideal for Content Writing?
The most suitable paraphrasing tool is the one that helps to write unique content quickly and effectively. Since we're talking about blogging and web content writing, it's ideal for the online paraphrasing tools to be compatible with the search engine optimization elements.
Therefore, AI-based paraphrasing tools should produce error-free copies of engaging content for web posting. This job is seamlessly done by Natural Language Processing, which offers a bridge between human language and computer language processing.
An ideal paraphrasing tool should produce content that is easy to read and seems naturally written. Most of the blogging content is related to digital marketing and guest posting.
AI-based approach for content writing is data-driven, and it helps to deliver uniqueness as a priority. Now we will discuss some tools that include these qualities under low or no charges.
Paraphrasing is a helpful technique to learn and upskill your writing abilities. That's where tools like Prepostseo come in handy. Prepostseo paraphrasing tool enhances the abilities of students, web content writers, and bloggers to produce unique content.
Such tools can help to achieve accurate results in a short time. Based on the advanced AI technology, this tool offers multiple writing styles.
There are three different modes that you can use with Prepostseo.com. They include the 'Fluency', 'Creative', 'Advanced' and 'Standard'.
These modes not only change the meanings of specific words, but they completely rewrite a sentence to make it more readable to the audience. This tool can confidently produce unique content with the least grammatical errors.
This tool supports a large word count with all the text uploading options drag and drop, copy-pasting, and file uploading. Above all, you don't have to register or pay anything to avail of its services. It is free to use, as this tool has no per day or usage word limit.
Key Features
Allows to rewrite entire length sentences without any limitation on words
Produces SEO Optimized content with easy-to-read format and structure
Allows all-in-one services like plagiarism and grammar error checking
Offers multiple AI-based paraphrasing modes
Free and unlimited usage even without signup
2. Rytr.me
This tool has been recently introduced in the world of web-based writing services. This tool is gradually gaining recognition in the communities of web content writers and bloggers with its efficient rewriting service.
The tool supports multiple languages, which is beneficial in academic writing, email writing, and blog writing for various regions. Rytr is an effective tool for producing quality content for sales letters.
Besides just paraphrasing the content, it can provide search engine optimization services to amplify the content's readability on a web page.
You get built-in services for plagiarism checking and content auditing. But it all comes with underpaid benefits, which is not ideal for some web content writers. Under free usage, you can only paraphrase 5000 characters a month.
Key Features
It provides 30 plus writing templates and gives plenty of options to write blog posts
Supports more than 30 languages, even with the most complex understanding of writing
Works as a Google Chrome Extension
Online based content auditing tools
Are you looking for an absolute straightforward tool with no bulky interface or button option? Then this tool is the right choice for you. The paraphrasing tool by Textreverse.com offers quick results, and easy to access options any web content would love to use.
No need to follow any complex trial-based procedure to use this tool. You can directly upload a file or paste the text for paraphrasing the content you want.
Then, choose the suitable language for paraphrasing the content and proceed by clicking the 'Paraphrase' button.
Within seconds you'll get the unique and readable content in the output box. And the best part, you don't have to add credentials to use this tool. Enjoy unlimited paraphrasing service for free.
Key Features
Free and easy to use
Gives accurate results within seconds
Supports multiple languages
Offers to check plagiarism and grammatical errors on screen
4. Frase.io
Frase is well known for being a content marketing tool powered by AI and NLP technology. This tool is the best choice to create concise and readable articles against any specific keyword.
This tool is suitable for creating and editing. You can generate content based on a targeted query in just a few seconds. Moreover, you can also improve the quality of some existing content by making it unique and readable with this tool.
Key Features
Provides you with several topic ideas against your query
Provides content optimization and SEO optimization services
Provides suggestion on content generation
Paraphrasing is the only remedy for removing plagiarism from your content, and this job is seamlessly performed by Plagiarismremover.net. The standout feature of this tool is that it offers three different types of paraphrasing options that ensure delivery of unique content.
There is no limit on word count, and it gives you results quicker than you expect. It generates results in the output box in real-time within a few seconds. The following features make it a stand apart option for many online users:
Key Features
Multiple options for languages
No limit on word count or query usage, no registration or payment plan required
Available on both iOS and Android mobile application
Offers grammar and plagiarism checking service onboard
Conclusion
Artificial Intelligence has been growing gradually to provide innovative solutions for each problem. This technology has enabled computers to think and act like humans.
Based on the same concept, the paraphrasing tools have become a product of this technology to deliver effective writing services.
---
Another great tool to check out is this online calculator.