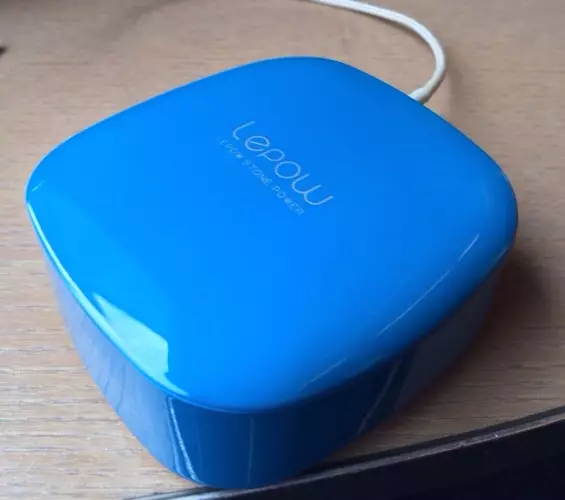 The Lepow Moonstone 9000 is a portable battery. You could call it the big brother of the Moonstone 3000 which we reviewed a while ago. It's the newest in the Moonstone powerbank series and it has all the features we loved from the Moonstone 3000 but with a whooping 9000mAh capacity.  
Even though its considerably bigger in size than the other moonstones it still fits perfectly in your pocket due to its rounded edges. What really blew my mind is how light this thing is considering it's capacity. You can barely feel the weight in your hand! The dimensions for the Moonstone 9000 are 3.2″ x 3.2″ x .7″ and 8 ounces.
As with the other Moonstone's there are two USB ports so you can choose the charging speed (1.2A) or (2.1A), or even charge two devices at the same time.
It will fully charge your iPhone5 6.5 times!
It's incredibly easy to use, just plug your device in and it starts charging. And when you stop using it, it shuts itself down.
You charge the moonstone with the included micro USB cable, which can then be used to charge your device if it has a micro USB port. It takes approximately 8-9 hours to fully charge when empty via USB.
You can press the button to light up a battery level indicator, each light represents 25%.
As an added bonus you will receive gifts when purchasing a moonstone from Amazon!
    The only bad experience I've had with my Moonstone has been when I've forgotten it at home and the battery in my phone died. Which I can't really consider a design flaw, this thing is great!
You can get the Lepow Moonstone 9000 from Amazon for only $39.99.
Considering what other portable powerbanks on the market cost and deliver I definitely recommend the Moonstone over any other!