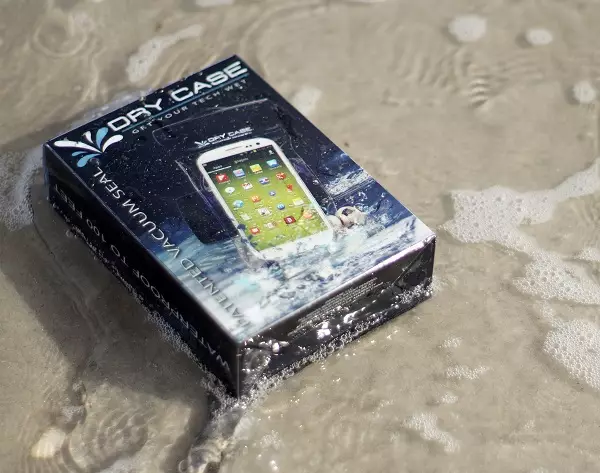 The DryCASE is a vacuum seal for your smartphone, keeping your device safe from water, dust, sand or just about anything you can imagine. It's really easy to use and works just as well as expected.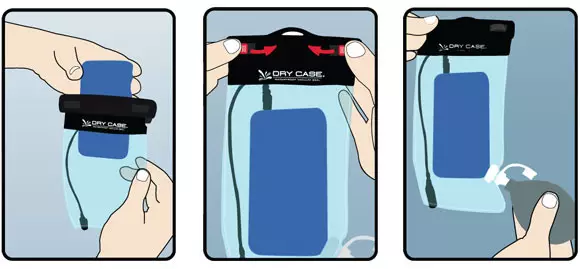 You put your device inside the DryCASE and then use the included pump to create a vacuum. Easy as that. And since you can see whether the vacuum remains or not, you instantly know if it's still watertight, every time you use it.
The DryCASE is completely watertight, even for extreme amounts of time, as you can see in this picture of a DryCASE test at the CES.
Also if you were to lose the included pump you can suck the air out with your mouth and it will do.
The touchscreen is still easy to use, although some buttons may be hard to reach. Underwater the touchscreen is somewhat less reactive, but still works. This has been the case with all waterproof solutions I've tried so far.
The camera works just like normally (provided there are no airbubbles or wrinkles blocking the lens), the microphone also works when the phone is in the drycase.

As you can see there is a built in adapter so that you can use headphones with the DryCASE. Just connect the adapter to your phone before putting it in, then connect your headphones to the adapter, easy as that.
I tried the DryCASE with an iPhone, but it works with just about any phone or music player you can imagine, there's even a version for tablets.
After using the DryCASE for several weeks it still works just as well, and there is barely a trace of wear & tear on it.
The only problem is that some buttons are hard to reach. Some people have also reported that trackballs (like on the Nexus One) can only be used if you let some air stay inside. Even if you don't have a complete vacuum the DryCASE is still watertight.  Although that is not recommended.
It's rated at 100 feet (roughly 30 meters), and every case that ships has already been tested.
The advantage with the DryCASE over any other waterproof case is the fact that it's so easy to put on and take off. Most waterproof phone cases are quite bulky, that is a problem you won't have with the DryCASE. And it's also perfect if you plan to use it with several different devices. You could also put other things in there to protect them from water, cash, credit cards, business cards etc.
The DryCASE works extremely well, and is super easy to use. Considering it will protect a $500+ device, the $40 price is well justified. After having tried it properly I must recommend the DryCASE to anyone who wants to use their phone in a potentially wet area.
You can get it here