It's round, it certainly is, but Is it as amazing as Apple claims?
Apple is known to claim their products to be wonderful and revolutionary, did they live up to that with the new Mac Pro?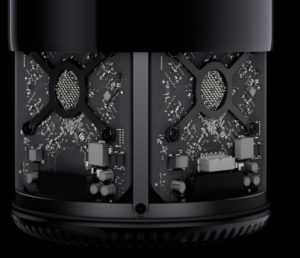 The new Mac Pro will feature dual AMD FirePro GPUs with up to 6GB of GDDR5, PCI Express-based flash storage, high-performance Thunderbolt 2. Thunderbolt 2 means 20Gb/s transfer speeds and the ability to daisy chain up to 36 devices.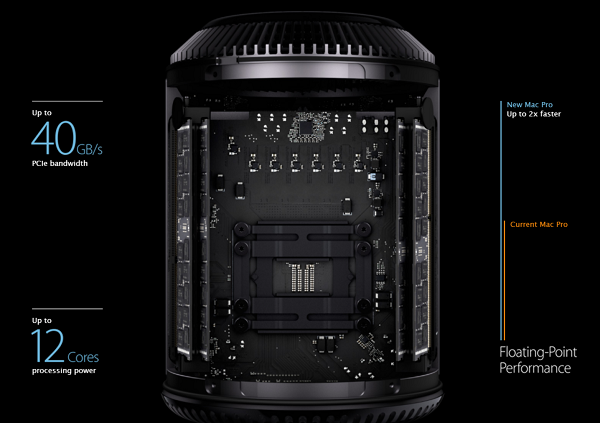 And on the processing side the next generation Intel Xeon E5 chipset. With up to 12 cores of processing power, up to 40GB/s of PCI Express gen 3 bandwidth, and 256-bit-wide floating-point instructions. Which is supposed to make the new Mac Pro up to 2x faster than the current Mac Pro. Certainly sounds good!
It also features a four-channel DDR3 memory controller running at 1866MHz, which delivers up to 60GB/s of memory bandwidth. The memory itself will also be ECC (Error correcting).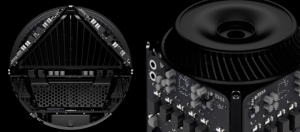 The most interesting thing, which is actually only logical if you think about it, is the whole computer uses one large heatsink. A bit like the MacBooks chassis are the heatsink. This huge central heatsink is also actively cooled by the computers only fan, probably making it very very quiet.
The new Mac Pro packs an unprecedented amount of power in an unthinkable amount of space. A big reason we were able to do that is the ingenious unified thermal core. Rather than using multiple heat sinks and fans to cool the processor and graphics cards, we built everything around a single piece of extruded aluminum designed to maximize airflow as well as thermal capacity. It works by conducting heat away from the CPU and GPUs and distributing that heat uniformly across the core. That way, if one processor isn't working as hard as the others, the extra thermal capacity can be shared efficiently among them. No computer has been built this way before. And yet it makes so much sense, it's now hard to imagine building one any other way.
I/O ports available will be 6 Thunderbolt ports, 4 USB3 ports, 2 Ethernet ports and one HDMI port.
It also has the latest in Wifi, 802.11 ac, which is way faster than 802.11 N.
And taking up only 9.9″ x 6.6″ It is really a beast of a computer for It's size.
Apple has only said it will be released later this year, no specific date.
I was skeptic at first, but damn, they really made something amazing here. Squeezing all that performance into that tiny cylinder, impressive!