MacBook Air:
Processor up to 2GHz Core i7, with Turbo Boost these go up to 3.2GHz, the built in facetime camera is now 720p and the display on the 11-inch model now 1366 x 768 (with Intel HD graphics 4000 card).  The slightly larger 13 inch will have a 1440 x 900 screen. They both have usb 3.0 capability and up to 8gb RAM (which isn't so impressive considering competitors..). Storage will be available up to 512GB while prices will start at $999 for the most basic option, up to $1099 for the better version.
And something that surprised me from Apple's part (Steve Jobs wouldn't like this) they start shipping today!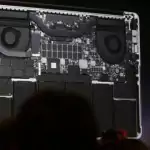 As for the pro version it will as rumors predicted feature a 220 pixel-per-inch 2880 x 1800 retina display. That's quite a bit less than the 326 ppi LCD on the iPhone 4S and the 264 ppi density of the new iPad's display, but who am i to complain, its a hell of a lot better than the previvous 1680 x 1050 pixels found on Apple's previous-generation mac book pro. What more the casing measures just 0.71-inch think and weighs 4.46 pounds, quite neat.
In addition to that high resolution, Apple is also promising higher contrast ratios, better viewing angles and reduced glare compared to other laptop displays, and it's updated all of its stock apps to take advantage of the new resolution, as well as Aperture and Final Cut Pro.
It will have up to 16GB of RAM, Kepler GT 650M graphics, up to a quad-core 2.7GHz Core i7 processor, up to 768GB of storage, and the standard 7 hours battery time.
Apple also announced the new MagSafe 2, a slimmer version of the charger found on all MacBooks. That means more space for the super skinny next gen MacBook Pros, but it also means you've got to go out and replace your old chargers.
Also the new Thunderbolt adapters connects to Firewire 800 and Gigabit Ethernet to make possible for more connections using less ports.
The new mac book will featureTwo Thunderbolt ports, HDMI, an SD card, USB 3.0, and "MagSafe 2."