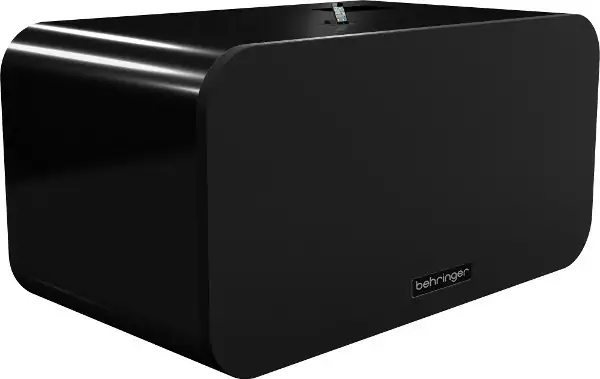 At 10,000 watts this enourmous ipod dock will be sure to shake your house, and empty your wallet. The iNuke Boom from Behringer costs 30,000$, weighs 700pounds, is 2.5 meters wide and 1.5 meters tall. Now i dont think anyone would buy this except for show off, but it still is cool.
BEHRINGER Explodes into Consumer Electronics Market with 50 New Products plus the iNuke Boom – The World's Loudest iPhone/iPod Dock with 10,000 Watts of Power

New EUROSOUND sub-brand will offer consumers concert sound at a great value.

iNuke Boom and all EUROSOUND products will be unveiled at CES 2012 – Central Hall, Booth 15348

Bothell, WA – December 7, 2011 – BEHRINGER, award-winning innovator of affordable professional audio and music equipment, is excited to announce the launch of the EUROSOUND consumer electronics brand — concert quality sound at an amazing value. To celebrate the launch of 50 new consumer audio products, BEHRINGER will unveil the iNuke Boom, the loudest iPad®, iPod® and iPhone® dock you've ever heard at CES 2012. The $29,999.99 (manufacturer's suggested retail price) monster speaker system measures a whopping 8 feet wide by 4 feet tall, weighs over 700 pounds and pumps out over 10,000 Watts of power.

The EUROSOUND line fully embraces a modern, European design while remaining true to BEHRINGER's roots in professional audio engineering. Four distinct product lines will be marketed under the EUROSOUND name. The Home line brings a professional, live concert sound from the stage into the comfort of your home. EUROSOUND Live products amplify your sound. EUROSOUND Portable products deliver a mobile audio experience anytime, anywhere, while the Creation line proves you don't have to be a professional musician to make great music.

The underlying quality in all EUROSOUND products is a commitment to delivering high performance audio at an incredible value, something BEHRINGER has been providing to musicians and audio professionals since the company's inception more than twenty years ago. The BEHRINGER mantra "Double the Features at Half the Price" will also translate to the EUROSOUND products.

"When I started BEHRINGER 22 years ago my goal was to provide musicians with high quality equipment at an affordable price," said Uli Behringer, founder and CEO of Music Group LLC. "With the launch of EUROSOUND we are challenging ourselves to share the incredible sound and quality we have worked to so hard to craft over the last two decades with all music and audio enthusiasts."

Follow BEHRINGER at @BEHRINGER or facebook.com/BEHRINGER for the latest news on the company's complete line of Eurosound consumer products and all of BEHRINGER's award-winning pro audio equipment.

About Behringer: BEHRINGER, a division of MUSIC Group, was founded in 1989 by Uli Behringer under the mantra "Double the Features at Half the Price". The company has since been designing and producing loudspeakers, amplifiers, mixers, DJ products, microphones, headphones, wireless systems, musical instruments and lighting systems to both professional and amateur musicians for over two decades. Today a team of more than 3,500 people across four continents work to deliver high performance audio at an incredible value in over 100 countries around the world.

iPod, iPhone, iPad are registered trademarks of Apple Inc., registered in the U.S. and other countries.