Why not send a Thanksgiving E-Card?
Estimated reading time: 2 minute(s)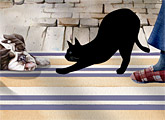 They are quite fun, you can send one to a pal or even to your co-workers / employees. So to get this trend going again i thought I'd write about a website that specializes in just this, and in time for Thanksgiving its perfect. They have many designs for their ecards, including many Thanksgiving ecards and you can send them both via Email and via an awesome Facebook app. Especially the facebook thing i found great as many people are hesitant to open emails with unknown content. But anyway, check it out!
You have found one of our older posts.
Keep in mind that links might be broken and embedded content might have been removed.
In any case we hope you find this post enjoyable! Feel free to contact us if you notice any issues.
appAutocheckco workersDrafte cardfacebookgadgets newsthanksgivingthanksgiving ecardstrend