Today i got the new Go-Flex Satellite from seagate that we covered a while ago. Basically it's a 500gb hardrive with usb 3.0 and optional e-sata, but it has one more fun thing. It's wireless! The wireless function works exceptionally well with the ipad and iphone 4, you just install seagates app and then you are ready to go!
Click more for a full review and setup guide!
Setup was incredibly simple; after powering on the disk, it automatically started broadcasting a wireless signal that we could connect to using an iPad or smartphone. The wireless network comes unsecured to make it easier for first-time users, but it supports WPA security if you want to restrict access to your content. Up to three wireless devices can stream video from the disk simultaneously, but only iOS devices will have access to the GoFlex Media app. An Android version is in the pipeline, but there was no indication of when it would be available.
On an iPad 2, we could stream MP4 and H.264 videos almost instantly over WiFi. Whether you use the free iOS app or the web interface, file formats are still limited by Apple's defaults. You can play unsupported content using third party apps, which launch automatically when you choose a video (assuming you have one installed). There's certainly room for improvement, as the music section doesn't currently support album art and it took several seconds to display individual picture files.
I also ordered the optional E-sata cable, but that didnt work out all that well due to the fact that my shitty HP laptop dosent have .the right driver, anyway i'll try that when i get home. (upadate) it's super fast!'
.
.
Take more than 300 HD movies on-the-go1
Stream media over Wi-Fi to 3 Wi-Fi enabled devices at the same time
Automatically sync media and documents from your PC or Mac® computer
Up to 5 hours battery life2
.
How to get started with the Go-Flex Satellite!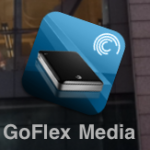 T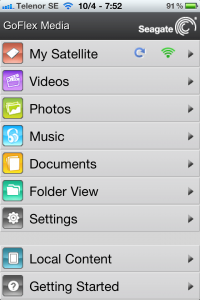 he hardrive comes with a more or less fully charged battery and is ready for use, so what you do is turn the power on and it will begin initiating for wireless conection. Meanwhile go to your mobile device's app store or app market and search for "Goflex Media". When the install is done the harddrive should also be ready so go to wifi settings and conect to the harddrive. Then start the app and voila!
.
.