Visa Wireless payments with your phone, test
Estimated reading time: 2 minute(s)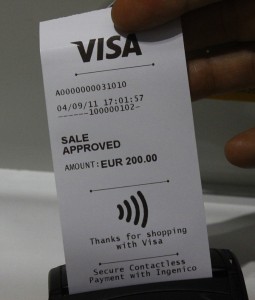 At IFA in Berlin this year VISA showcased something very awesome at Samsungs booth. Wireless credit payments with your mobile phone. The thought is that you have an RFID chip in your cell phone and then that is linked to your bank account. Basically when you put your phone to a payment terminal it automatically drwas the money. If the amount is hiogher than 50€ it ask for permission to draw this amount. Also for security you can put several passcodes on the app.
For the olympic games the contestors will be given these prototype phones and every store arounf the olympic arena will get the new wireless VISA terminal. It might take a few years till we see this in stores, but it worked incredibly well. More photos inside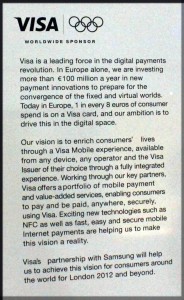 You have found one of our older posts.
Keep in mind that links might be broken and embedded content might have been removed.
In any case we hope you find this post enjoyable! Feel free to contact us if you notice any issues.
Autocell phonechipcredit paymentsDraftgadgets newsmobile phoneolympic arenapasscodespayment terminalphoneRFIDSamsungsvisaVisa Wireless paymentsWireless credit paymentswireless payments
One Comment
Leave a comment