A "silent" computer mouse
Estimated reading time: 2 minute(s)
Your computer mouse probably makes a clicking sound… every time you click. A Dutch company called Nexus has patented a mechanism that removes the sound. So what you have is a silent mouse. They figure you don't really need the auditory confirmation that you've clicked, since you can see (on your computer screen) that you've done so. There's a small one called the sm7000, meant for traveling. And now there's a large 5-button sibling, called the sm8000. All 5 buttons are silent.A silent mouse could be really useful in a crowded office where all you hear is (click,click,click,click), all that is needed now is a silent keyboard.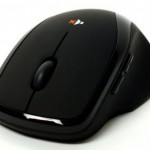 You have found one of our older posts.
Keep in mind that links might be broken and embedded content might have been removed.
In any case we hope you find this post enjoyable! Feel free to contact us if you notice any issues.
auditorycomputercomputer mousecomputer screendutch companykeyboardofficescreensiblingsilent computer