Razer Goliathus gaming mouse mat "Controll Edition" review
Estimated reading time: 3 minute(s)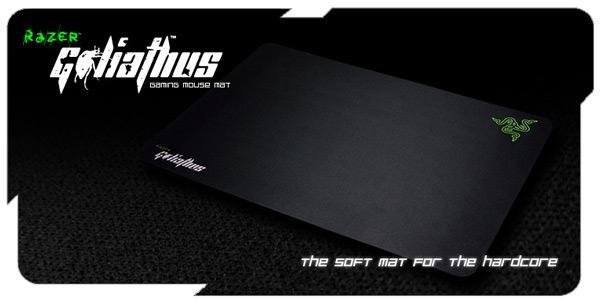 At first i was sceptic to this mousemat, it felt wierd and i thought the mouse would just get stuck on it. But the instant i tried it i changed my mind. It made the mouse instantly slower and everything was a lot easier to find. But yet the glide is really good. Only con would be that the textile on the side of the mat looks trashed. Anyway a really good mousemat.
Heavily Textured Cloth Weave The Razer Goliathus Fragged Control Edition's research-informed weave pattern delivers just the right amount of friction to ensure pixel-precise targeting and optimal mousing response while keeping the glide smooth and consistent.

Optimized for All Sensitivity Settings and Sensors
The Razer Goliathus Fragged Control Edition is optimized for use with all gaming-grade mice, regardless of sensitivity settings and sensor type.

Sizes;

Alpha Oversized 444mm X 355mm X 4.3mm
Standard 355mm X 254mm X 4mm
Omega Space-efficient 270mm x 215mm x 4mm
You have found one of our older posts.
Keep in mind that links might be broken and embedded content might have been removed.
In any case we hope you find this post enjoyable! Feel free to contact us if you notice any issues.
3mmgadgetsgadgetzzgaminggaming mousekrahbichlermatmousemouse matmousematSensitivitysensor type
4 Comments
Leave a comment